We are excited to share that 2018 Wilson Hill Academy graduate Ashlyn Freemyer has recently been awarded a Fulbright Scholarship which will take her to Bulgaria following her May 2022 graduation from Baylor University.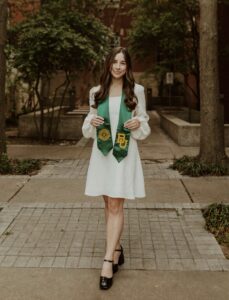 Four years ago, Ashlyn entered Baylor University's selective University Scholars program, designed to allow outstanding students to pursue a liberal education across an array of disciplines. Ashlyn has enjoyed a rich experience at Baylor, which she attributes in part to the flexibility of the Scholars program that enabled her to bypass prerequisites and pursue concentrations in literature, philosophy and creative writing.
Ashlyn explained that the freedom to explore several areas of study allowed her to experience "more of the world and how other people are thinking about the same things but in different ways." Classes such as photography and political science widened her scope and introduced her to great thinkers in the disciplines. In her agrarianism course, she discovered Wendell Berry: "It was so interesting to see the world through his eyes." She has treasured the freedom of self-directed learning.
Ashlyn exuded excitement about her Fulbright scholarship and her upcoming year abroad: "I don't think I anticipated doing something abroad for this long and in this way! After studies such as my Dostoevsky class at Wilson Hill,  I was really interested in Slavic culture." Soon she will begin her English Teaching Assistantship (ETA) in Yambol, Bulgaria, where she will work primarily with 8th–12th graders teaching English and serving as a cultural ambassador. Ashlyn is excited to join the ETAs and meet other like-minded people from around the world who are interested in cultural exchange. She looks forward to not only learning a new language but also to teaching: "Teaching is really important; it was important for me growing up, and I love to learn." 
When reflecting on her years at Wilson Hill and how they prepared her for her time at Baylor and life to come, Ashlyn shared, "I was impacted by how intentional my teachers were and how much they cared about the subjects they were teaching. Because of my Wilson Hill experience, I entered college with a desire and excitement to learn more. A lot of kids at Wilson Hill were excited to have conversations. These conversations with teachers and students prepared me to look for the good in people and in what they have to say." Ashlyn has always appreciated learning from classmates with diverse backgrounds and beliefs who are also eager to learn.
She added, "The teachers at Wilson Hill genuinely cared about what we thought. They shared their experiences which was hopeful when I thought about my own growth academically. … It cultivated an environment that was empathetic—in which we could share with one another and be responsive." During her years at Wilson Hill, Ashlyn gravitated toward The Great Conversation courses in particular: "We didn't just look at literature or the texts. We expanded beyond them and had philosophical conversations and conversations about theology."
We are thrilled for Ashlyn as she embarks on this next chapter in her academic life. After her year in Bulgaria, Ashlyn plans to pursue her doctorate and teach in a university, which has always been her goal. It is a joy to watch God work in the lives of all our Wilson Hill alumni.