WHA earth science and Greek 1 teacher, Shelby Bowden, may not have starred in any movies yet, but his life certainly resembles one now and again. Shelby is a structural geologist, which means he studies how, when and why the Earth's surface deforms. This type of research surveys mountains, valleys, faults, islands . . . really any part of the Earth's surface. Shelby's work takes him to far flung destinations like Guam (west Pacific) and, most recently, Ethiopia where he spent five weeks last summer collecting rocks and mapping the geology. There Shelby used a variety of techniques to determine when the Ethopian basement (the deep crustal rocks) formed, how the basement has deformed over time, and when this basement uplifted to its present position as a massive, country-wide plateau.
Ethiopia is covered in enormous valleys, which formed when a monstrous magma plume thrust the country upwards thousands of meters. Each of these valleys is nearly as vast as the Grand Canyon, yet no one knows when they formed. To solve this puzzle, Shelby collected hundreds of pounds of rock. Understanding that rock inside the earth's crust is hot, while rock lifted out of the crust is cold, Shelby began dating when the rock cooled, as a proxy for when it had risen and the valleys formed.
Some parts of Ethiopia are considerably remote, where tribal communities live in grass huts without running water, electricity (no internet!), or most modern commodities. While some may consider this arduous, Shelby enjoys the challenge of formidable living conditions, so he loved it! Well, most of it. He didn't care for landing in a tribal jail for unintentional trespassing. That part was no fun. Turns out that this particular tribe had recently revolted against the national government. Since Shelby happened to be working under the authority of that government, the tribesmen didn't like him one bit.
Besides the opportunity to experience Ethiopia's captivating people, Shelby especially appreciated the country's fascinating landscapes. Ethiopia boasts some of Africa's tallest mountains, rising over 12,000 feet, as well as one of the lowest places in the world at -450 feet below sea level. Best admired from afar, Dalol currently holds the official record as the hottest year round place on earth, reaching temperatures of 140 degrees Fahrenheit!
Despite a few unhappy detours, most of Shelby's research trip proved successful. He was thankful for good guides who enabled him to return home reasonably unscathed with the exception of some blisters and a nasty stomach bug. While in Ethiopia, Shelby captured the places he visited – enjoy his photos below!

Shelby (left) and local geologist, Tadesse Alemu, inspecting some rocks along the Didessa River

Shelby (left) and local geologist, Kibrie Tadesse, collecting rocks along the Abay River

Spices in the open-air market in Me'ke'le

Amharic local transporting goods on a donkey

Shelby attempting to collect rocks in Tigrai
Many locals have never seen a Caucasian person, so whenever he stopped to collect rocks, hordes of kids came out and tried to help him!

Erta Ale volcano in the Danakil Depression
This is one of the many active volcanoes in Ethiopia, and Shelby and his wife hiked up and camped overnight on the edge of the volcano. It got up to 120 degrees at night here!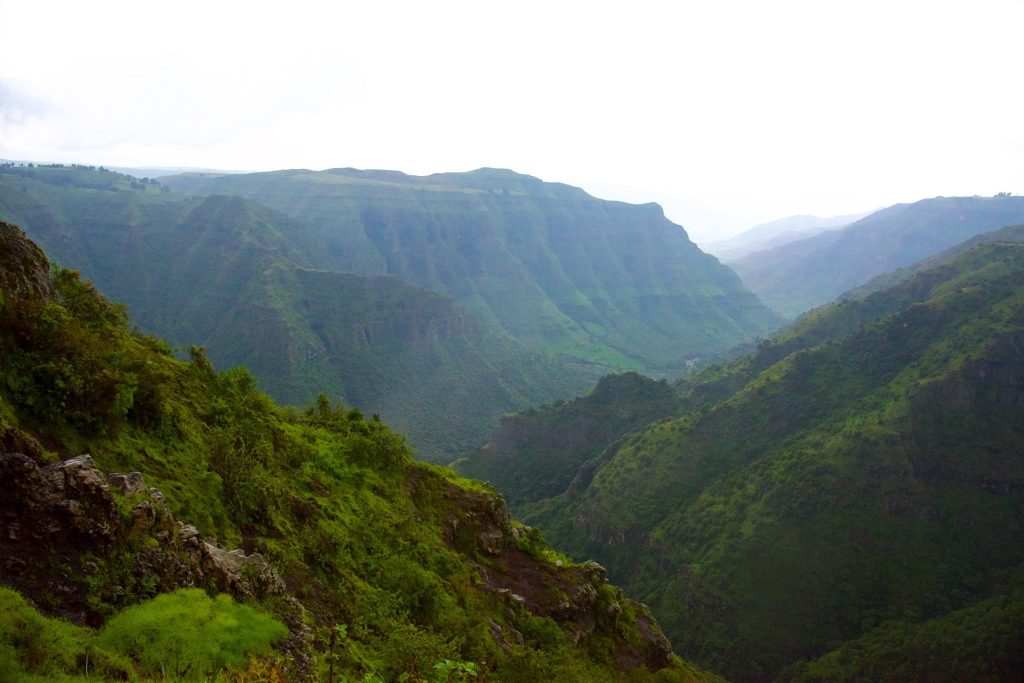 One of the many river canyons in Ethiopia
This one is in the highland region surrounding the Semien Mountains.
Sulfur springs in Dalol within the Danakil Depression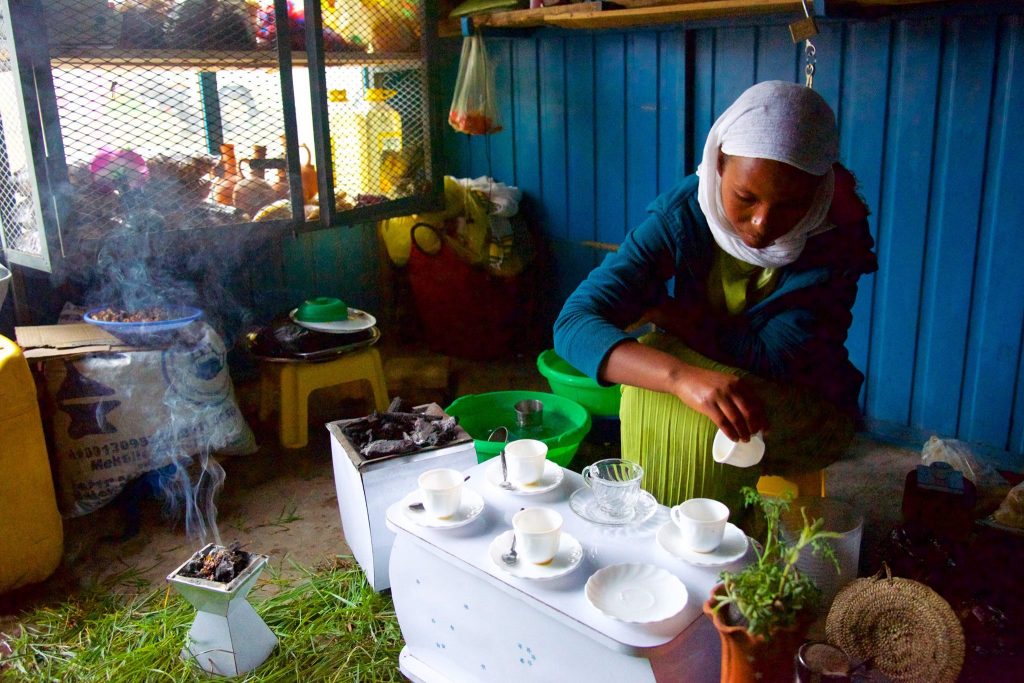 Coffee originated in Ethiopia, and coffee drinking has full ceremonial status there. When someone sits down for coffee, he commits to an hour-long process, filled with roasting beans, coffee, popcorn, and incense.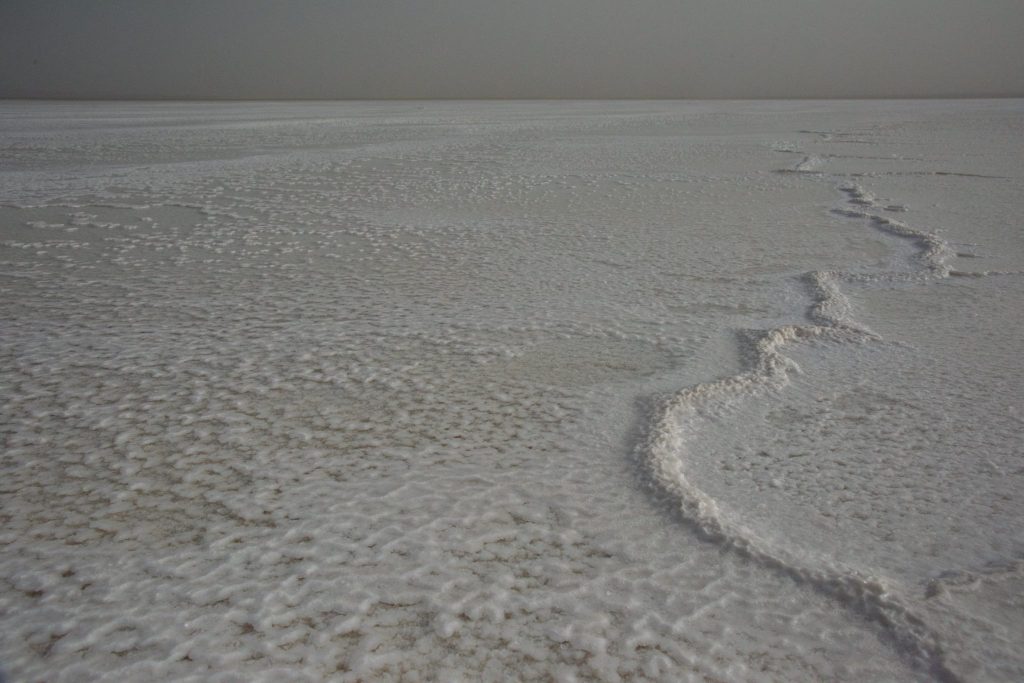 Lake Assale is a continental lake that is drying up, leaving behind huge salt flats extending for miles to each horizon.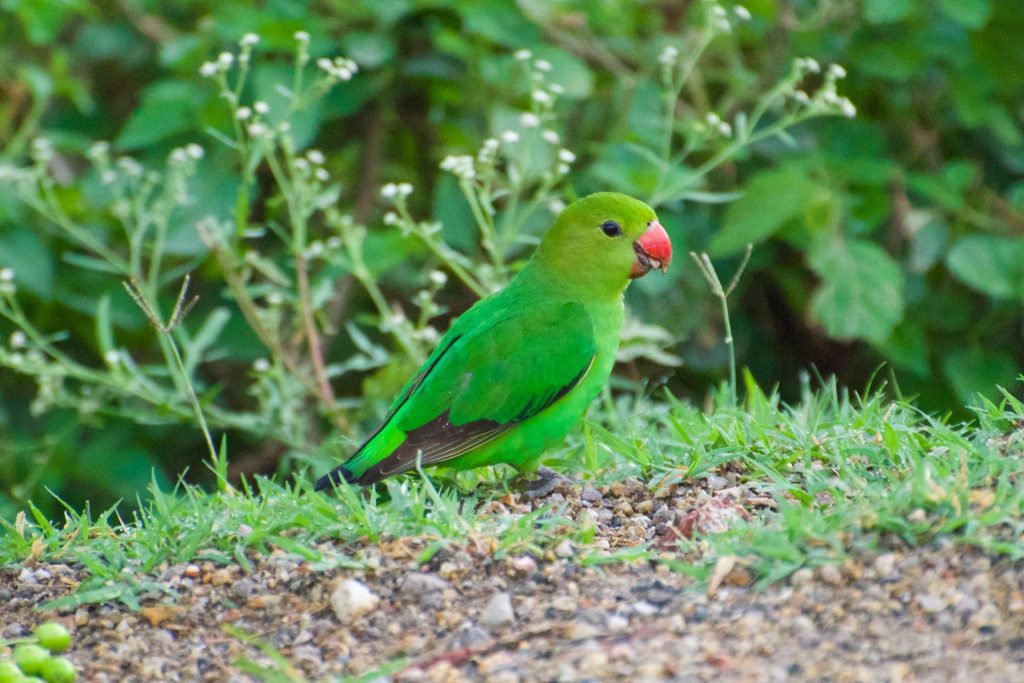 The black-winged lovebird (Agapornis taranta) is endemic to Ethiopia and a rare find.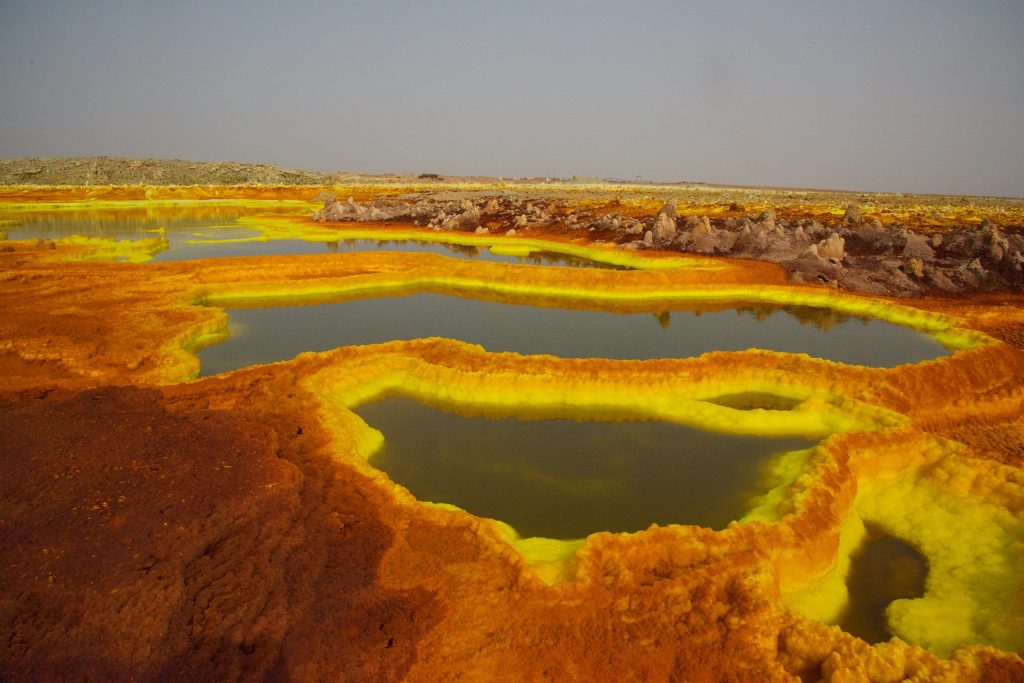 Sulfur springs in Dalol within the Danakil Depression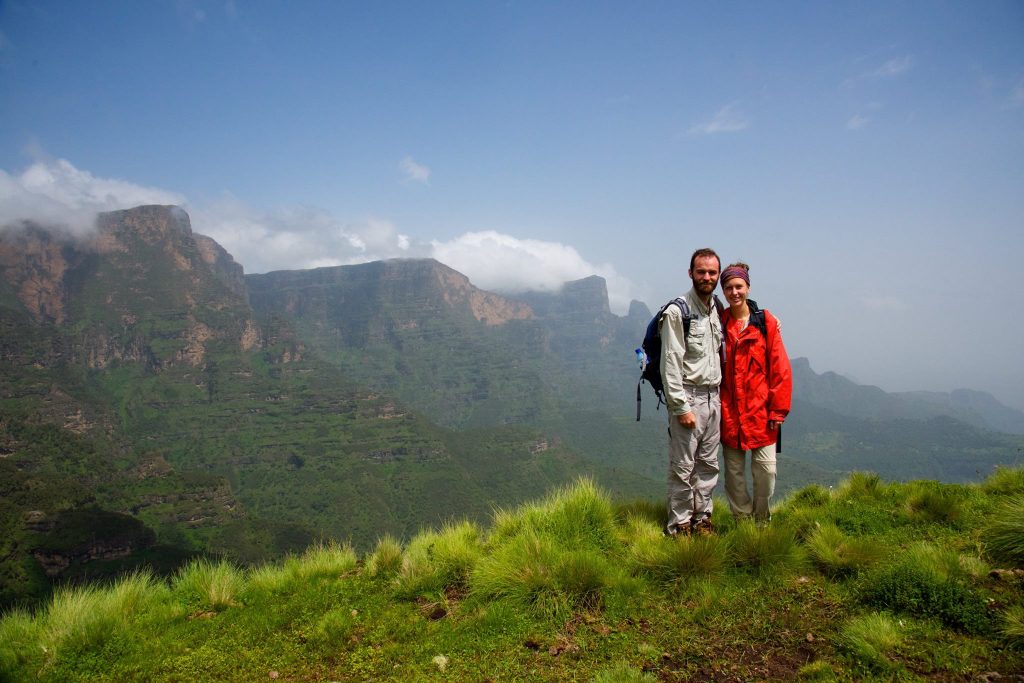 Shelby and his wife, Abby, after hiking up a mountain in the Semien Mountain highland region
Dusk in Beninshangul Gamuz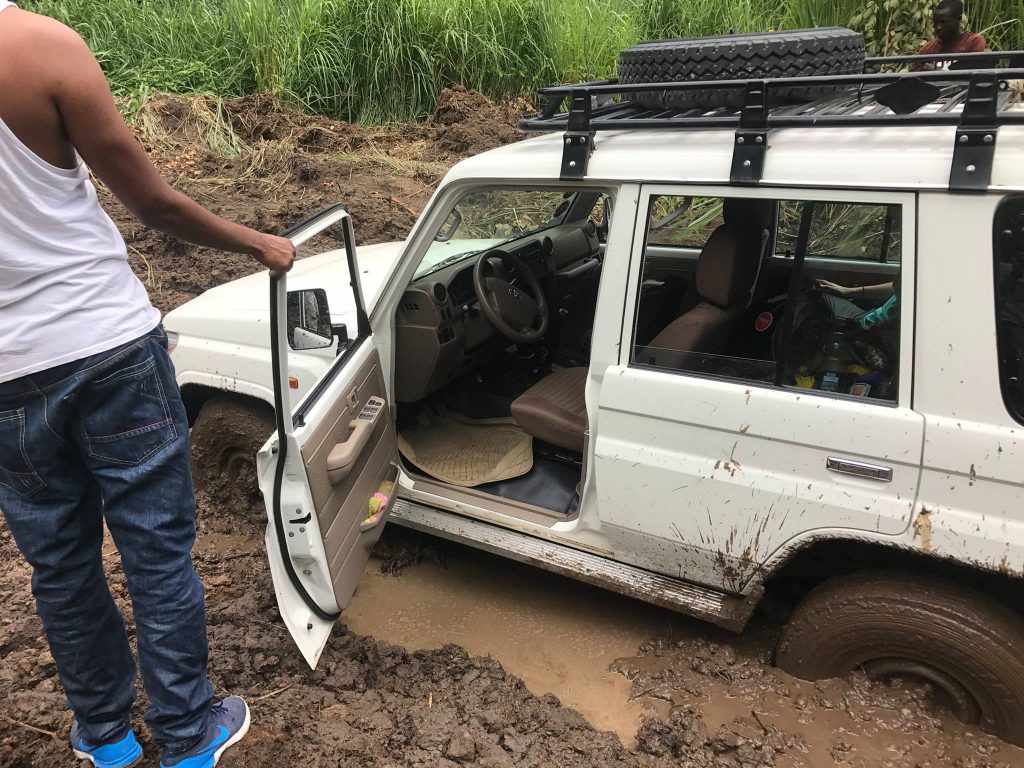 Attempting to get the car out of deep mud during a field expedition (and right before being captured)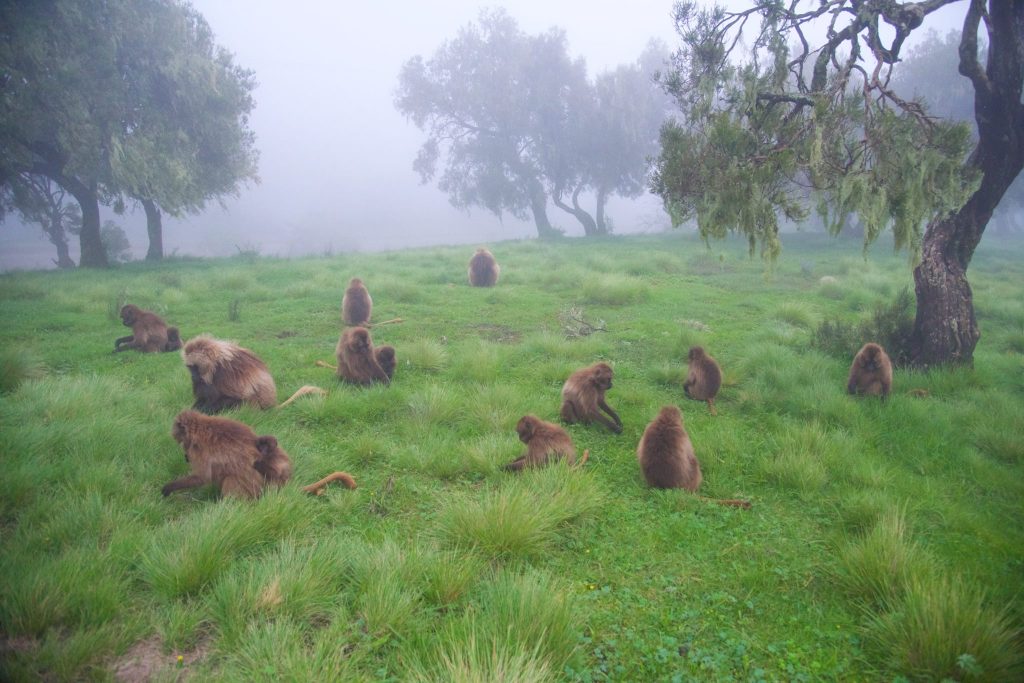 Gelada Monkeys in the Semien Mountains
These monkeys are not bothered by humans at all and will let you walk right up to them.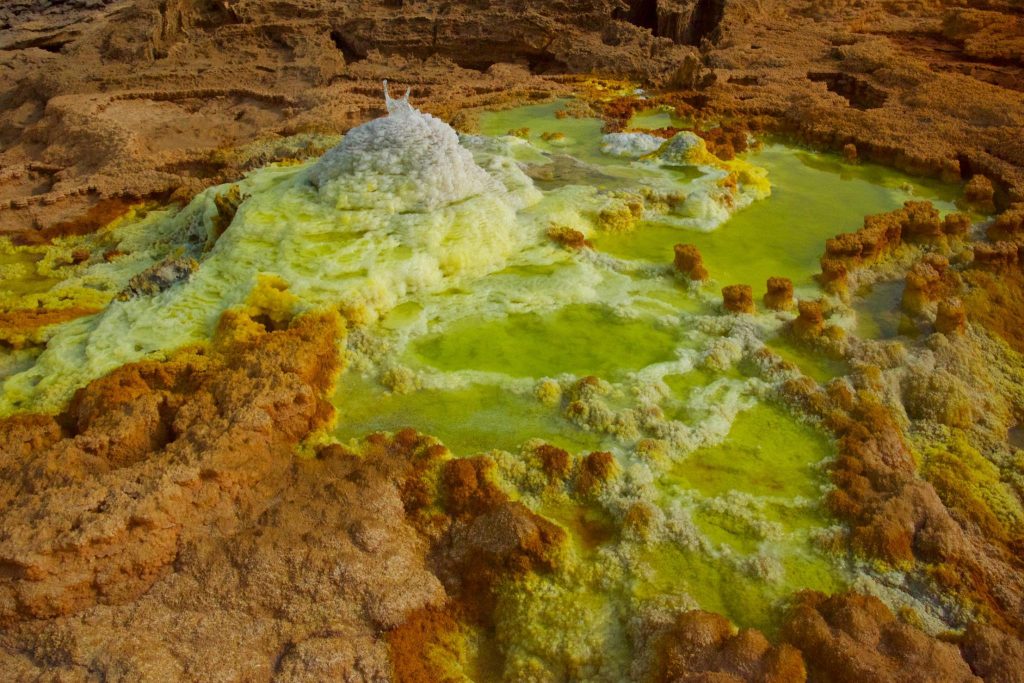 Sulfur springs spitting out hot mineral water in Dalol within the Danakil Depression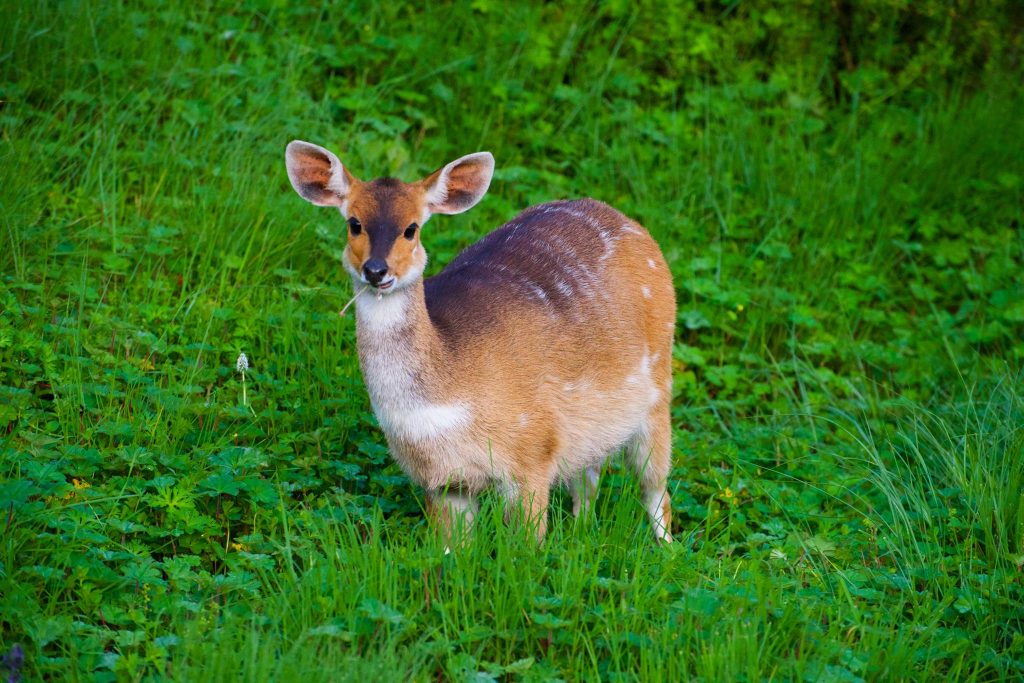 An endemic Menelik Bushbuck (Tragelaphus seriptus meneliki) in the Semien Mountains

The Abay River (listed in Genesis as Ghion)

The famous Jinbar waterfall
After hours of hiking in the rain, the clouds finally parted to reveal this magnificent waterfall!