We are pleased to announce that Bruce Etter has joined Wilson Hill Academy as Head of School.  He will be leading the faculty and staff as we begin our first year of offering online classes for academically motivated students.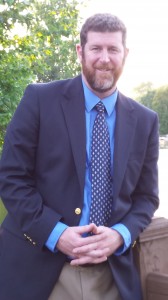 Bruce grew up in a warm and loving Christian home in the mountains of West Virginia. His wife, Julie, says his West Virginia accent rises to the surface every once in a while, but he is happy to be reminded of his upbringing! His parents faithfully taught him the gospel. At the age of 17, he decided he wanted to be in Christian ministry of some kind. His aspiration was to be the next Billy Graham (one of his childhood heroes . . . along with several NFL stars), but God had other plans.
After graduating from Columbia International University in 1992, Bruce began teaching in a Christian school in Virginia. He met Julie in church, and they were married in 1993. After enrolling in Southeastern Baptist Theological_Seminary in 1994, he transferred to Reformed Theological Seminary (Charlotte, NC) and graduated in 2002. He and Julie have been involved in Christian education and missions for the past 20 years. He launched his own online course in 2006, and transitioned into a full-time pioneering role as teacher and lead administrator at Veritas Press Scholars Academy beginning in 2008.
From the beginning Bruce and Julie have homeschooled their five children, supplementing their education with online classes. His selfish motive in hiring engaging teachers has always been, "I can't wait for my children to have HIM/HER!" He is excited for you to get to know our extraordinary teachers. Bruce believes WHA students are going to be blessed and challenged by an unusually talented and Godly faculty.
Over the years Bruce has heard people say, "Online education must be impersonal and detached," and it certainly can be. Of course, that is true of other educational experiences as well. To counteract that perception, he has always led his staff to build meaningful community among themselves and with their students. Earlier this summer he had the privilege of attending the wedding of two former students, individuals who met in online classes. He doubts they would call their experience "impersonal"! On an even more personal note, seven years ago he and Julie learned about a young woman who had been given a place to live by the family of one of his students. She gave birth to a beautiful Hawaiian boy in February, 2008, and the Etters adopted him. That's making it personal!
At Wilson Hill Academy we are making a deliberate attempt to humanize what might otherwise be a de-humanizing learning environment; building a community of life-long learners. Over the next several weeks, Bruce and others will be considering how to provide options beyond the classroom for building community among the students, families and teachers at Wilson Hill.